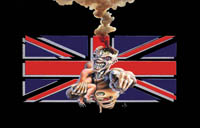 On this page you get the chance to advertise to try and get members for your band (If you're in one). For example if you are looking for a bassist, e-mail to me the details of your band and I will place an advert on this page. If you wish to advertise, fill in the form below and send it to me. The campaigns will appear below.
WARNING: I cannot guarantee results.
Campaigns
1.
Heavy Metal band in Toronto searching for a drummer and a vocalist, Aged between 10 and 15
Influences include Korn, Iron Maiden, Coal Chamber, Fear Factory, Slipknot, Mudvayne e.t.c.
Email stoned_soldier@hotmail.com for more details.