I have recently added some maiden related reviews to the bottom of this page.
Iron Maiden 8/10
Even though this album was their first, it is one of the best, mainly because it's got Phantom on it. Dennis wasn't as good as Dave, so compared to Dave he sounds a bit rusty. It's one of my personal favorites.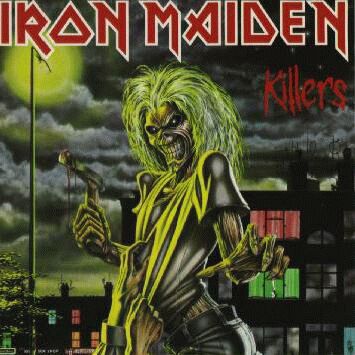 Killers 5/10
The reason I've not given Killers a brilliant rating is because almost every song has something to do with killing a woman in it. Adrian and Dave work well together, and the last few songs are good, but it's a bit disappointing compared to some other albums.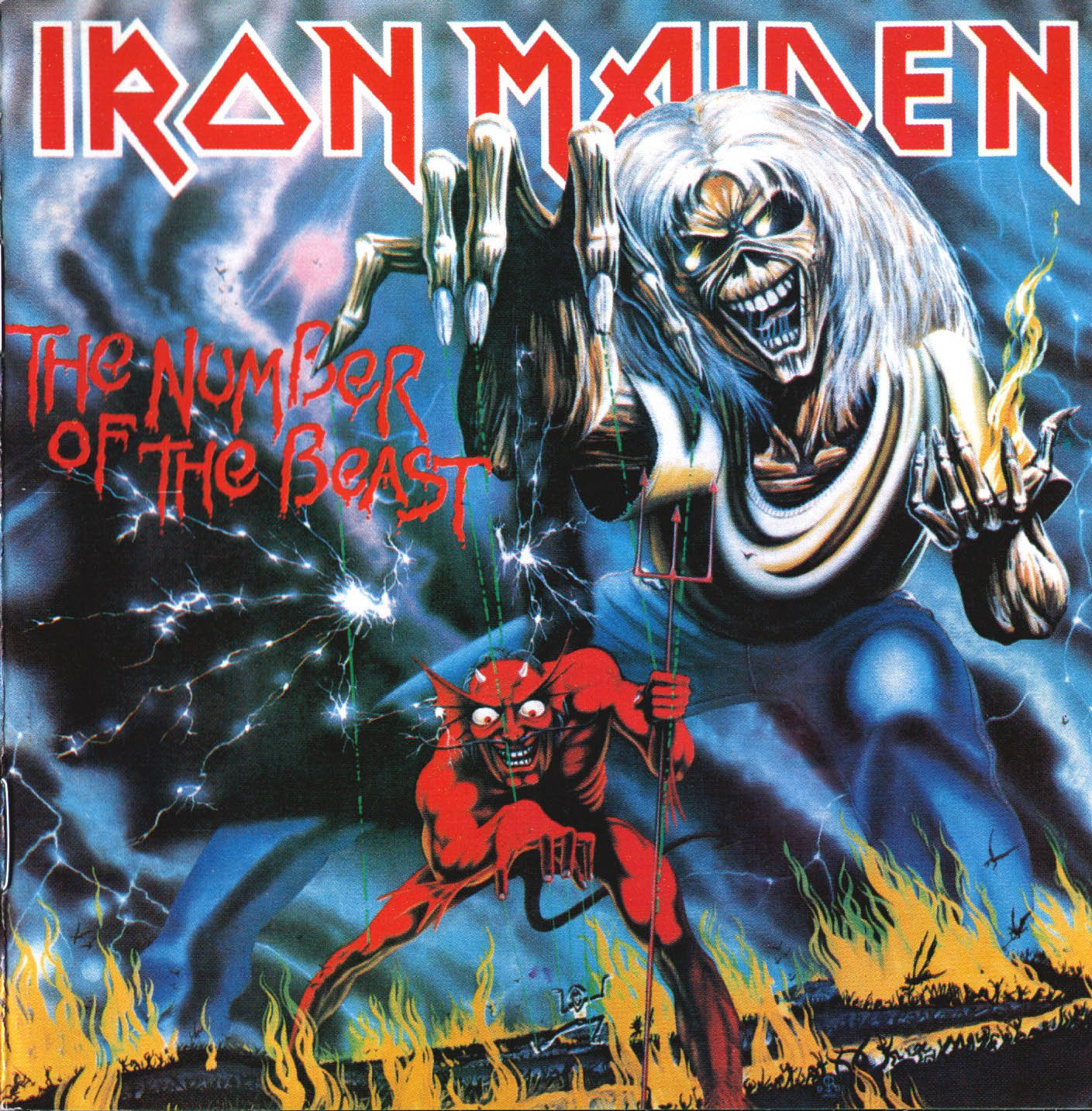 The Number Of The Beast 10/10
A brilliant improvement on Killers, and a great start for Bruce. Probably everyone's favorite album. The Enhanced version has Total Eclipse on it, which was originally the B to Run To The Hills. The line up for this album really works.
Piece Of Mind 8/10
Maiden kept up their good profile for this album, and Nicko proved himself to be a good replacement for Clive Burr on the intro to the first track Where Eagles Dare. They proved themselves to be the best in songs like The Trooper. Bruce also stretched his vocal talent to the limit in songs like Quest for Fire, Where Eagles Dare and To Tame A Land.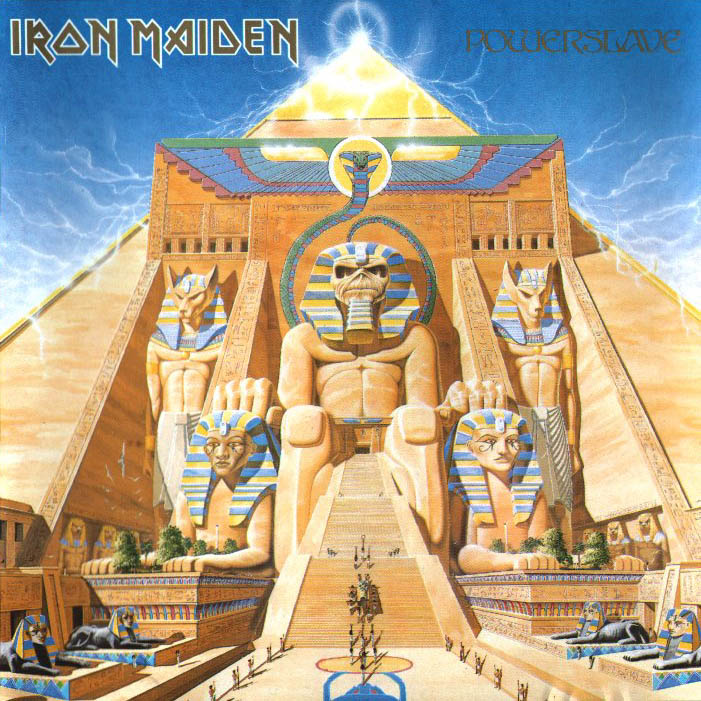 Powerslave 9/10

One of the most powerful albums I have ever heard. Aces high contains a dazzling intro, 2 Minutes contains the famous startling middle riff, and Rime Of The Ancient Mariner is just an amazing piece all round, each section of the song snaking comfortably into the next, with Arry's bass leads often overpowering the amazing guitar duo that is Dave Murray and Adrian Smith. Even the title track itself has a few surprises in store for the inexperienced maiden fan, proving that Bruce's songwriting abilities could stretch the most experienced song writer to the limit, and beyond.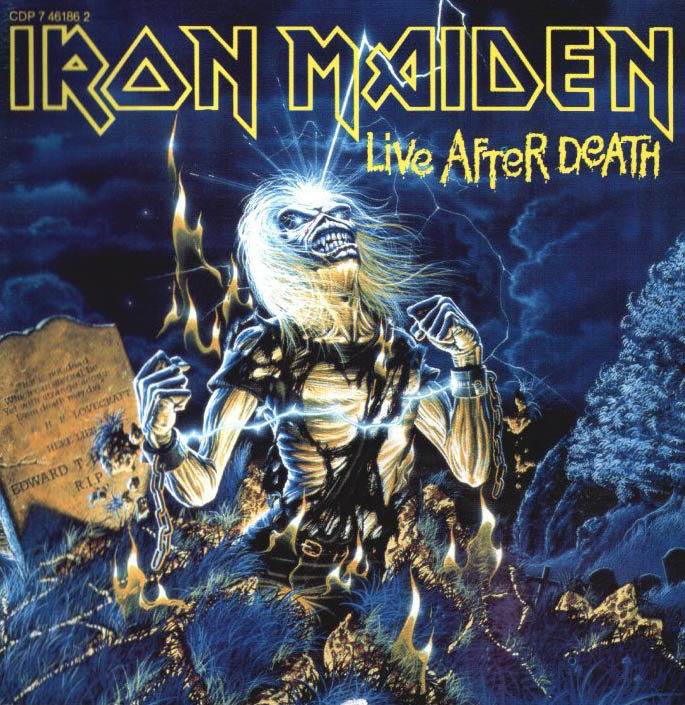 Live After Death 10/10
I wasn't really going to review a live album, but seeing as this one is THE most powerful live album you could imagine, I decided to make an exception. Even though you cannot see the action of the concert, you can feel it. All of the power and action of the concert is sucked up into your living room, and even in your dressing gown and slippers, you feel as if you are there at an Iron Maiden concert at the Hammersmith Odeon in 1985. Need I say more?
Somewhere In Time 7/10
It has everything that maiden have provided us with on the last five albums, so what's wrong with it. It just seems to be missing something. Perhaps its the fact that they were totally knackered from the 300 date World Slavery Tour, Or perhaps it was due to Bruce not writing as much, but this album is certainly missing something. It does have some good songs on, but some are disappointing.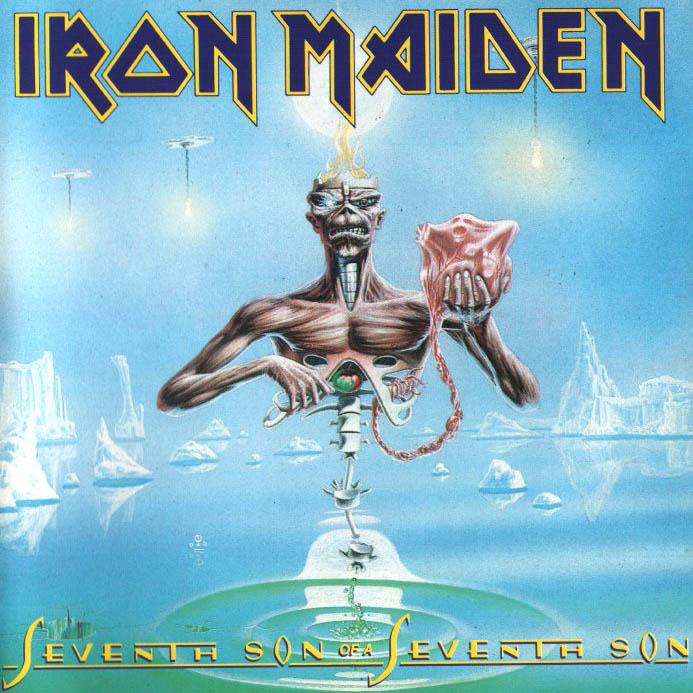 Seventh Son 8/10
With Bruce back on track with writing, and a great concept to write about, this album showed that maiden were stronger once again. Four hit singles emerged from the repertoire, and the title track blew me away, so it was certainly an improvement.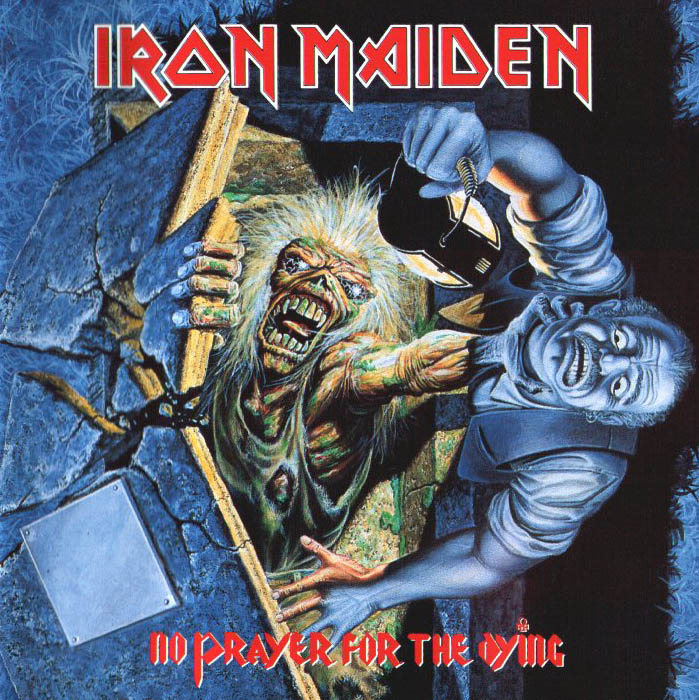 No Prayer 6/10

I don't know if its just me, but this album sounds a lot more mainstream than the others. The songs sound a lot more laid back than usual, but then again, it was supposed to be. It was recorded in one of Steve's barns, and the videos were just shot around his house. The album was just a rest from the usual over the top productions. The album does contain the only number one, though, which proves that maiden weren't going to disappear with the 80's, and will always remain as strong as when they started out, as five talented musicians, who never fail to produce brilliant material.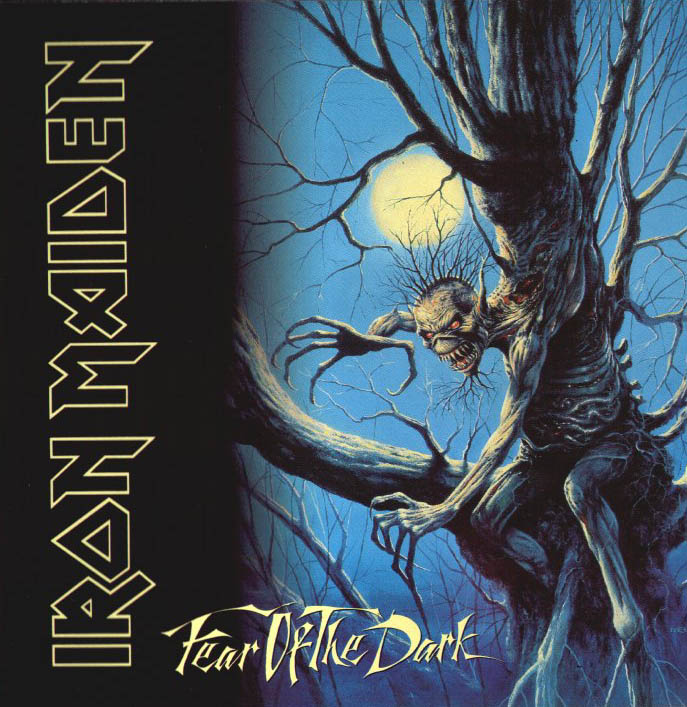 Fear Of The Dark 8/10
This album showed maiden were back in the over the top range that they were in around the Powerslave era. They released one of their heaviest offerings yet: Be Quick Or Dead, which the press struggled to find faults with. Plus they released the last chapter of the Charlotte series: From Here To Eternity. Although maiden are back on track for this album, it sometimes depresses me, because it is Bruce's last.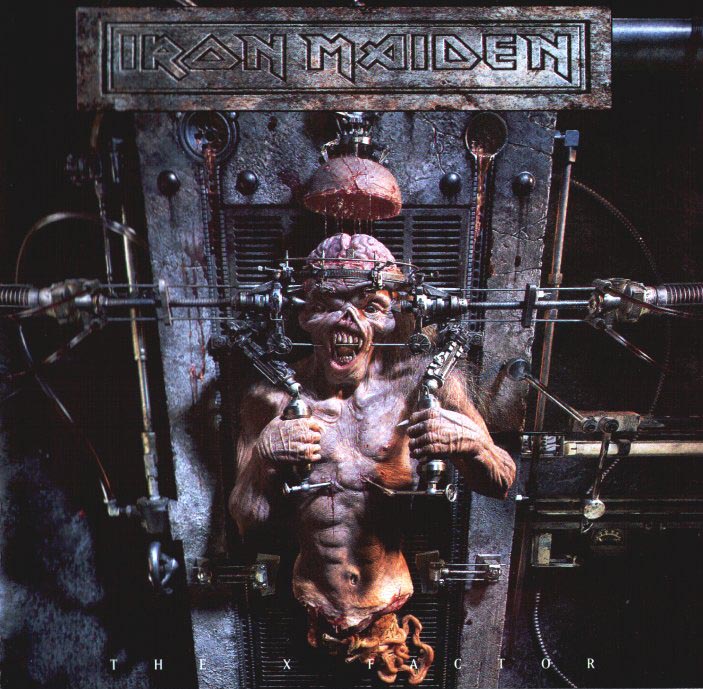 The X Factor 4/10
What the hell went wrong here. O.K. so Blaze has got a decent voice, and the albums got a good concept, but its just GRIM. Man On The Edge and Judgment Of Heaven are among the only decent tracks on it. The B-sides were better than the singles they appeared on. It's a mostly depressing album, half because most people listen to it thinking of Bruce, and mostly because the songwriting is just not up to scratch. I honestly thought that this could be the end for maiden, unless they began to do some better writing...
Virtual XI 7/10
Thank you. This is much better. Not to heavy, but not as mainstream as No Prayer. The heaviest track to be released this time round was Futureal. The Angel And The Gambler gave more of a seventies feel, which the press failed to notice. In fact, one reporter wrote "It's just not what I want to listen to right now". Is that crap journalism or what? Certainly an improvement.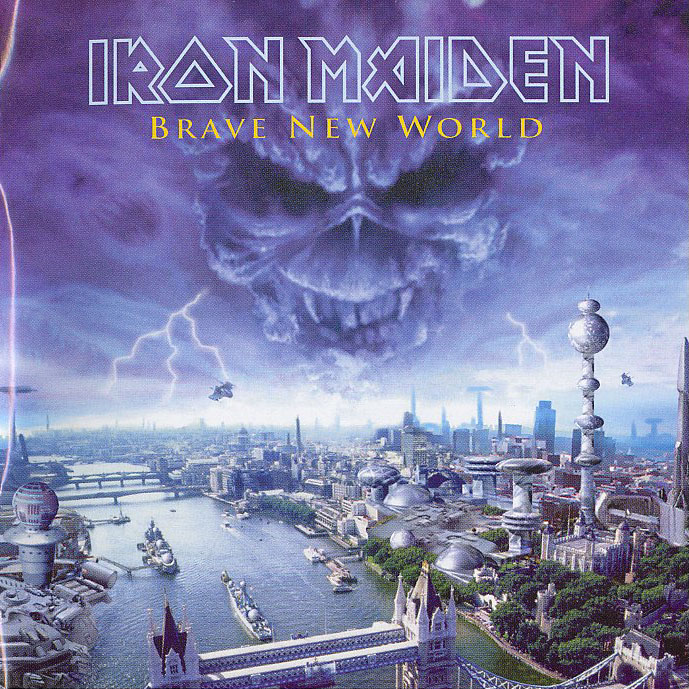 Brave New World 9/10
Bruce back, Adrian back to form powerful three guitar line up, powerful songs, everything maiden needed to be back at their peak. Definitely a breath of fresh air compared to some of today's heavy metal albums, cause this rap-metal malarkey's really annoying me right now.
Samson - Head On 7/10
Bruce's old band was maybe a little different to maiden, but nonetheless, maiden and Samson were both close mates as bands, as Steve co-wrote some material with them. A song called Thunderburst appears on this album, which you'll realize is just maiden's The Ides Of March in a different key. This was made before Killers, before you call them thieves, by the way. This album is a beautiful example of 70's heavy metal. Bruce's vocal talent is proven in songs such as Take Me To Your Leader, and the guitar is brilliant in Hard Times and Walking Out On You. A must have album if you can find it. It's interesting to listen to.
Bruce Dickinson - Tattooed Millionaire 8/10
This was recorded after the Seventh Son album, and is totally different to his other work. There is a heavy mainstream influence here and he even does a cover of David Bowie's 'All The Young Dudes', which was originally performed by Mott The Hoople. I wont even tell you what the song Dive Dive Dive is about.